The cosmopolitan cocktail, also known as a "cosmo," is a classic cocktail made with vodka, triple sec, cranberry juice, and lime juice. It has a bright pink color and a sweet-tart flavor that is both refreshing and sophisticated.
The Cosmopolitan cocktail has become a popular choice for drinkers around the world, especially among fans of the television show "Sex and the City." This pink-hued drink has a tart and sweet flavor that is perfect for a night out with friends or a special occasion. In this blog article, we will explore the history of the Cosmopolitan, the difference between a Cosmopolitan and a Martini, and the best ingredients for a classic Cosmopolitan.
The History of the Cosmopolitan: From Prohibition to Modern Day
The origins of the Cosmopolitan are somewhat disputed, but most sources agree that the drink was first made in the 1930s. It is said to have been created by a bartender in either New York City or San Francisco, but the exact details of its creation remain a mystery.
The drink gained popularity in the 1980s and 1990s, and it was heavily featured in the TV show "Sex and the City." Today, the Cosmopolitan is a staple in many bars and is enjoyed by people around the world.
Cosmopolitan vs. Martini: What's the Difference?
At first glance, a Cosmopolitan may look similar to a Martini, but there are some key differences between the two. A Martini is typically made with gin and vermouth, while a Cosmopolitan is made with vodka, triple sec, cranberry juice, and lime juice. A Martini is also usually served straight up, while a Cosmopolitan is typically served on the rocks or strained into a martini glass. The flavors of the two drinks are also quite different, with a Martini having a more herbal and bitter taste and a Cosmopolitan being sweeter and more tart.
The Best Ingredients for a Classic Cosmopolitan
To make a classic Cosmopolitan, you will need the following ingredients:
To make the drink, simply combine all of the ingredients in a shaker with ice and shake until well combined. Strain into a martini glass and garnish with a lime wheel or twist.
It is worth noting that there are many variations of the Cosmopolitan, and some bartenders may use different ingredients or ratios to make their version of the drink. However, the recipe above is a classic and delicious way to enjoy a Cosmopolitan.
The Cosmopolitan cocktail has a rich history and has become a popular drink around the world. While it may look similar to a Martini, the two drinks are quite different in terms of their ingredients and flavors. To make a classic Cosmopolitan, all you need is vodka, triple sec, lime juice, and cranberry juice. So why not mix up a batch of Cosmopolitans for your next party or gathering?
If you enjoyed this article and would like to learn more about cocktails and other drinks, be sure to sign up for our newsletter. We will send you regular updates with new recipes, drink reviews, and other interesting articles.
What glass do you serve a Cosmopolitan in?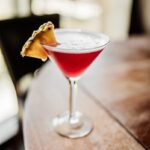 Traditionally, a cosmopolitan cocktail is served in a stemmed cocktail glass, also known as a martini glass. This type of glass is typically triangular in shape, with a wide rim and a narrow stem that attaches to a round or cone-shaped bowl. The wide rim allows for garnishes such as a citrus twist or sugar rim, while the shape of the bowl is designed to enhance the aroma and flavor of the drink. The stem allows for the drink to be held without warming it with the hand.
Instructions
Shake all the ingredients with cracked ice. Pour into a martini glass.
Buy the equipment
Here are our top picks from Amazon of cocktail making equipment to make a Cosmopolitan.
Other recipes you may enjoy…